All-New Calorie Cycling Challenge Starts July 6th!
WHAT IS CALORIE CYCLING?
Very simply... "Calorie cycling" is a style of eating where you eat higher calories on some days, and lower calories on other days. That's it. That's the definition. 
We love this protocol because it allows much more freedom and flexibility while in a fat loss phase. It's MUCH more SUSTAINABLE than just being in a consistent deficit or following the same diet every single day.
This type of nutrition protocol can help optimize fat loss and / or muscle gain because it allows you to eat way more food when you want it and less when you don't so you get the extra calories when you need them most.
Now... How do you know what your personal calorie cycle should look like? 
How do you know exactly how many calories you should eat for fat loss?  
Should you work a Carb Cycle into your Calorie Cycle? 
Fair questions. This is precisely what we're going to teach you through this challenge.
[CLICK HERE to sign up now!]
What?!?!
You still need to follow a strategy that makes sense for you and your goals. You still need to be in a caloric deficit overall if you're trying to lose weight. You still need to track your food intake & actually pay attention to what you're eating. 
Calorie Cycling works really well with carb cycling, too. Which is fantastic because I love carbs! And if you love carbs too, that's great because with this type of protocol you can still enjoy carbs while losing fat. Carb cycling is also one of the easiest ways to calorie cycle. This would mean that you're strategically eating different amounts calories each day, as well as different amounts of carbs.
Confused yet?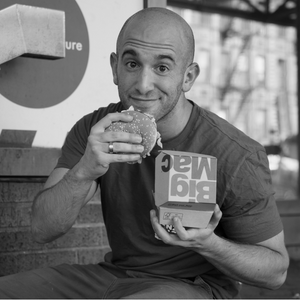 In short...
Calorie Cycling is a simple and effective way to help you eliminate stubborn body fat while enjoying your favorite foods in moderation.
Alternating between high and low calorie days helps keep you more full (when most diets force you to battle through hunger every step of the way) and fuels your body with more energy when it needs It most so you can get stronger while losing fat and getting more defined.
Our 30-Day Calorie Cycling Challenge is starting on July 6th!
We've created the 30 Day Calorie Cycling Challenge to teach you how to do this (properly). We want to teach you how to create successful, sustainable results. We want you to be kept accountable and to truly CHALLENGE yourself. 
No generic templates, No B.S. - this program is just real science & knowledge that we've been personally using & teaching for years that will teach you life-long skills. You'll learn exactly how to create a specific calorie cycling formula for your own unique body & goals! 
HERE'S WHAT YOU'LL GET BY JOINING THE 30 DAY CHALLENGE:
✅ Our Calorie Cycling Guide: We'll guide you in learning how to create your own calorie cycling formula through an instructional video series.
✅ Learn exactly how to make this style of eating actually WORK for you, where you're starting from & where you're trying to go with your physique.
✅ OPTIONS: We're going to teach you 3 different calorie cycling protocols to choose from based on what will make sense for you as an individual.
✅ Learn how to create sustainable, long-lasting results by scaling your formula over time as your body & goals change.
✅ Learn how to stay on track while still enjoying your life. Seriously, life doesn't have to suck while you're losing fat. You can ENJOY yourself, and learn how to practice healthy BALANCE.
✅ UNLIMITED SUPPORT FROM US: We're literally going to walk you through this step by step and be there for you the whole entire way. We'll be sending out weekly check-in videos & offering unlimited email support! ($500 value)
✅ One Month FREE ACCESS to the Inner Circle!!  Unlimited access to our best workouts, nutrition info, recipes and members-only exclusives!
✅ Bonus #1: My 14-Day Rapid Fat Loss Protocol ($97 value) 
✅ Bonus #2: The Complete Metabolic Power Workout Manual ($114 value)
✅ Bonus #3: My Kick Corona in the D*ck 30-Day Home Workout Guide ($49 value)
✅ Bonus #4: My Brand New Deadlift Domination 8-Week Strength Training Program ($59 Value) 
*As part of the Inner Circle during the challenge, you'll have access to exclusive nutrition & workout programs!!*
✅ CA$H PRIZES!! We'll be choosing 3 winners who will each receive $1000 cash!! 
SIGN UP NOW TO RESERVE YOUR SPOT!
CLICK HERE to download the digital guide and get started, we'll officially be starting as a group on July 6th
YOUR COACHES:
Jordan Syatt:
I'm Jordan, a mildly obsessed Harry Potter nerd holding several Powerlifting records, Precision Nutrition Certified and a degree in Health & Behavioral Science. I'm also Gary Vaynerchuck's personal trainer, and my work has been featured among some of the worlds leading media outlets including CNN, Business Insider, The Huffington Post, and more. My goal is simple: to give you the knowledge and confidence you need to help you achieve your goals as quickly and sustainably as possible... while having fun!
------
Susan Niebergall:
Hi! I am Susan Niebergall, Co- Coach in the Inner Circle. I am a fat loss and strength coach, helping people change their lives by getting as strong as possible and finally losing the stubborn fat they never thought they could lose. It's never too late to feel your best, look your best, and to get the strongest you've ever been.
What's the Inner Circle?!
The "Inner Circle" is an exclusive, members-only subscription platform where you'll get to access TONS of amazing content. 
All our best workout programs, community support, expert coaching from us, nutrition tips, recipes.. and so much more.
What it ISN'T??!
"quick fixes" or "magic bullets."
What we have — all we have — is real, straight forward, science-based and time tested strategies proven to get you results… AS LONG AS you are willing to put in the work on your end.
Joining this challenge is the perfect way to test out the Inner Circle life, LEARN A LOT, and truly transform your body & mind while you're at it.
Do it because you're ready to take your body to a new level.To push and challenge your body and mind in ways you've never been pushed. And to look and feel and perform better than you ever imagined possible.
Do it because you're tired of putting in a ton of mental and physical energy without much (if any) visible results to show for it.
Do it because it's about damn time you invested in yourself. Using a system that works. With a coach who cares. And a community who will be there to support you every step of the way.
Don't just take our word for it... See what real calorie cycling challengers have had to say about their experience:
I love my newfound freedom in calorie cycling. Thanks for the Calorie Cycling Challenge & showing me that I can keep progress AND enjoy food! 
I LOVE the Calorie Cycling Challenge!! You killed it with the videos and manual! So well done.

James
Thank you for all of the amazing information & videos... I am really liking the calorie cycling challenge. I feel my mindset is better and anxiety and OCD over food and social settings is shifting. I don't feel deprived at all! 

I am doing the Unicorn challenge workouts and I like those too!

Rosa
Thanks for the IC support, the Calorie Cycling Challenge support, and the way you target behaviors and psychology. I've always known what to do and how to do it... But now I have the tools to actually use that knowledge!

Ali
I have lost 1.5kg in 7 days. I have been eating nutritious meals, Big Ass salads, chocolate, ice cream and many other different foods. and I haven't been as active as i usually am... Thank you for making this happen and thank you for the weekly mails we keep getting with very informative videos! They're very inspiration! Thank you!

Isabella
YOU IN?! WE CAN'T WAIT FOR YOU TO JOIN US!
CLICK HERE to download the digital calorie cycling guide and you're in ;)
See you on July 6th!